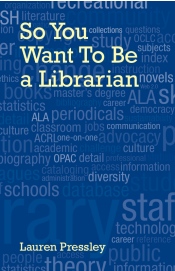 Lauren Pressley is the Head of Instruction and an Associate Librarian at the Z. Smith Reynolds Library at Wake Forest University. In this role, Lauren collaboratively manages the library's instruction program, plans and manages professional development for librarians who teach, administers the LIB100/200 program, represents library instruction to various audiences, and serves as library representative on teaching-related committees including the Teaching and Learning Center advisory board.
Lauren's professional interests include strategic thinking, advocacy, the library's role in the teaching and research missions of the university, and mentoring new and emerging professionals in the field. She particularly likes helping people think about the changing information landscape and what it means for them as consumers and producers of information.
Lauren earned her MLIS from the University of North Carolina at Greensboro and BAs in Philosophy and Small Group and Interpersonal Communication from North Carolina State University. She's published the books So You Want To Be a Librarian and Wikis for Libraries, serves in elected positions on the American Library Association Council and the Library and Information Technology Association Board of Directors, and is a member of the Horizon Project Advisory Board. She has been recognized as an ALA Emerging Leader, a Library Journal Mover & Shaker, and with a UNCG School of Education Distinguished Alumni Early Career award. She frequently writes and presents on education, instruction, technology, and the future of libraries. Lauren also blogs at ALA Learning, tweets as @laurenpressley, and can be reached at lauren@laurenpressley.com.
Google Chat:
Email: lauren@laurenpressley.com
Skype: LaurenPressley
Phone: Voicemail
Web: http://laurenpressley.com