Personal:
I believe strongly in The Library as institution and that the world is a better place because of them. I work to help libraries adapt to new and emerging needs of our patrons and connect communities with the power and potential of their libraries. I strive to ensure that future generations will continue to see The Library as a cultural cornerstone that provides information, resources, and spaces for local communities. I do this by:
integrating the library into formal and informal learning,
demonstrating how design can make libraries better,
exploring and explaining how the evolving information environment changes our users' expectations and experience of the library,
coaching organizational change, and
using this skill set to help shape the future of libraries.
Formal: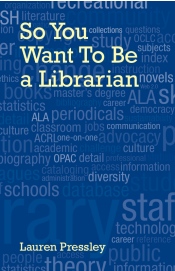 Lauren Pressley  is Associate Director of Learning and Outreach and Associate Professor and at Virginia Tech University Libraries. In this job she helps align the library within the teaching mission of the university focusing on emerging pedagogies  and literacies. Her professional interests include formal and informal learning, design in library services, the evolving information environment, organizational change, and the future of libraries. She is the author of So You Want to Be a Librarian and Wikis for Libraries and holds elected positions on the American Library Association Council and the Library Information Technology Association Board of Directors and is a member of the Horizon Project Advisory Board.
Previously, Lauren served as Head of Instruction and Instructional Design Librarian at Wake Forest University.  In these roles, she managed the instruction program of the Z. Smith Reynolds Library, consulted with librarians and other faculty members of the design of their instruction and emerging technology use, and implemented new programs such as designing and teaching the college's first undergraduate fully online course.
Lauren earned her Master of Library and Information Studies degree at the University of North Carolina at Greensboro and BAs in Communication and Philosophy at North Carolina State University. She has been recognized as a Library Journal Mover and Shaker, an American Library Association Emerging Leader, and with a Distinguished Alumni Early Career Award from the UNC-G School of Education. She frequently writes and presents on education, instruction, technology, and the future of libraries.
Email: lauren@laurenpressley.com
Skype: LaurenPressley
Web: http://laurenpressley.com